Xi'an Bell Tower-西安钟楼 (xī ān zhōnɡ lóu)
Saturday, October 28, 2023
The Bell Tower of Xi'an, in chinese called 钟楼 (zhōng lóu), it has become a symbol of Xi'an which is a city that blends ancient and modern cultures. In today's city center of Xi'an, you can find the Bell Tower at the intersection of four main streets within the Ming City Wall.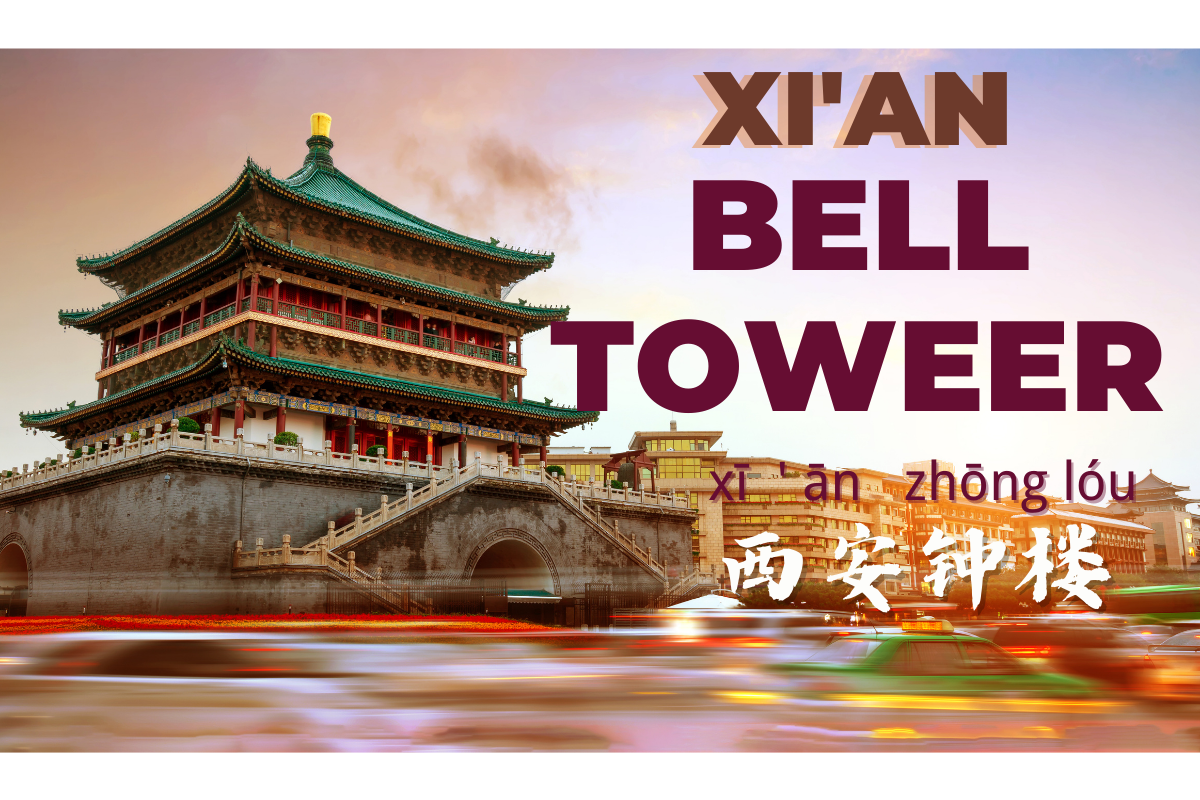 Pronunciation
"钟" (zhōng)-clock
"zh" is an initial consonant that is pronounced by placing the tongue against the upper gum and then quickly moving the tongue away from the upper gum to allow the air to pass through the mouth, making the ch sound. The "zh" sound creates a brief blockage of air flow in the mouth, which is then released quickly to create a plosive sound that is clear and strong.
"楼" (lóu)-tower
"lou" is pronounced like "low, "with the lips slightly rounded and then protruding, and the tongue at the bottom of the mouth making a longer sound.
Vocabulary
fāng xíng jī zuò


方形基座:Introduces the foundation supports of the Xi'an Bell Tower
The Bell Tower sits on a square-shaped base.

diāo liáng huà dòng


雕梁画栋-Chinese Chengyu:Introduces the art of the Xi'an bell tower architecture
Carved beam

sì jiǎo zǎn dǐng chóng yán sān dī shuǐ


四角攒顶 重檐三滴水-Architectural features of the Xi'an Bell Tower
Each of the eaves has four corners, three eaves, and three drops of water are the image of the triple eaves, referring to the three stages of water droplets flowing from the roof.

chén zhōng mù gǔ


晨钟暮鼓-Chinese Chengyu: Introduces the use of the Xi'an Bell Tower
"Morning Bell, Evening Drum":The bell is on the morning and the drum is on the evening
Sentences
Xi 'an Bell Tower represents the integration of ancient and modern cultures.
西安钟楼代表了古今文化兼收并蓄。


xī'ān zhōng lóu dài biǎo le gǔ jīn wén huà jiān shōu bìng xù.

It was built in 1384 during the reign of Emperor Zhu Yuanzhang in the Ming Dynasty and underwent restoration in 1582.
公元1384年,西安钟楼建造于明代朱元璋(zhū yuán zhāng)皇帝在位时,在公元1582年重修。


gōng yuán 1384 nián, xī'ān zhōng lóu jiàn zào yú míng dài zhū yuán zhāng huáng dì zài wèi shí ,zài gōng yuán 1582 nián chóng xiū.
Sign up for a free trial now!